K-State has taken extra precautions to ensure the safety of students, faculty and staff on campus. From emergency notifications to establishing the Principles of Community, K-State has everyone's welfare in mind. Check out the following resources for you and your students.
https://www.youtube.com/watch?x-yt-cl=84838260&v=TW56aXaoBsU&x-yt-ts=1422327029
Students, faculty and staff share the responsibility of keeping our campus safe and together work hard to have resources in place.  The campus community is guided by the Principles of Community, which describes the type of safe, supportive and caring community K-State seeks to foster.
Report unusual, threatening or dangerous behavior
Contact the K-State Police at 785-532-6412 or 911 in the case of an emergency.  You can file a confidential report through the Silent Witness program.
Students can report suspicious behavior or concerns about fellow students to the Office of Student Life.
LiveSafe – a safety app for students and parents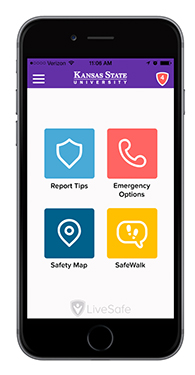 Kansas State University is introducing a safety app for smartphones called LiveSafe.
LiveSafe enables smartphone users to anonymously send text, photo and video tips to campus police at the Manhattan and Salina campuses; have friends and family monitor their walks using GPS; find campus safety procedures and resources; and more.
LiveSafe is free and can be downloaded on any iPhone and Android-based device through iTunes or Google Play. The app is available to students, faculty, staff, campus visitors, parents and community members.
Receive emergency notifications
Sign up for K-State Alerts to notify you in case of an emergency.  K-State Alerts will send you a text, email or voice message if there is an alert for campus.  Alert beacons, police public address system and website postings will warn the community in the event of a campus emergency.
Utilize the security measures on campus
The K-State Police Department has many officers that patrol the campus 24 hours a day, seven days a week.  K-State Police monitor numerous emergency phone call boxes located throughout the campus.  Know the locations of the blue emergency phone boxes.
Use Wildcat Walk to escort you on campus at night.  Call 785-395-SAFE or push one of the blue light emergency buttons.
SafeRide provides a safe ride home for K-State students and guests who live within the designated city limits of Manhattan.
Stop sexual violence
Visit the Center for Advocacy Response and Education (CARE) for information about prevention or for assistance in addressing the effects of sexual violence, dating violence or stalking.